Mashable zeigt ein Preview zum Buch "Jony Ive: The Genius Behind Apple's Greatest Products" vom Cult of Mac Redakteur Leander Kahnes. Es handelt sich um Fakten über Apples Stardesigner Jonathan Ive, welche wohl den Wenigsten bekannt sein dürften.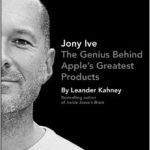 Hier die zehn Fakten:
Sein Vater, Mike Ive, war Eisenschmied. Jony durfte in seiner Werkstatt selber tüfteln, außerdem setzte sich sein Vater für die Einführung von Design, Gestaltung in britischen Schulen ein.
Ein Professor von Jony Ive zu Folge, entwarf der Apple Designer bereits an der Universität "superdünne und hochmoderne" Smartphones sowie Uhren.
Eine seiner ersten Arbeiten, ein WC mit Bidet und Waschbecken, wurde vom Auftraggeber abgelehnt. Grund: Zu kostspielig.
Ive wollte Apple zwischenzeitlich verlassen, Sein Vorgesetzter Jon Rubinstein konnte dies verhindern.
Ive setzte sich gegen Jobs durch, als es darum ging die Farbe Weiß für Kunststoff zu verwenden. Jobs wollte ein helles Grau.
Apple's Software und Hardware Chefdesigner mag Techno Musik. Diese hört man ab und zu aus den geheimen Designerbüros.
Er ist der einzige Designer bei Apple, der ein Privatbüro besitzt. Dieser Glass-Cubus ist nur mit einem Tisch, einer Lampe und Stuhl ausgestattet ist.
Ive ist es nicht gestattet seiner Frau von geheimen Projekten bei Apple zu berichten. Anders als andere Mitarbeiter bringt er jedoch auch nie seine Kinder zu seinem Arbeitsplatz.
Ive war einer der engsten Vertrauten von Steve Jobs. Nach dessen Bauchspeicheldrüsenkrebs-OP 2004, wollte der ehemalige Apple CEO nur seine Frau und Jony sehen.
Jonathan Ive hat wohl kein Interesse Apple CEO zu werden. Die ganzen erforderlichen Aspekte und Kriterien um ein Unternehmen leiten zu können interessieren ihn schlichtweg nicht.