Es war wie ein Schlag ins Gesicht, als ich gestern vom Tod des nur 63 Jahre alten Schauspielers Robin Williams erfuhr. Einer der tollsten und begnadetsten Menschen Hollywoods ist von uns gegangen. 
Nachdem sich unter anderem Tim Cook und Phil Schiller schon per Twitter zu Wort meldeten, hat Apple nun eine Sonderseite » für Robin geschaltet. Eine sehr schöne Geste.
Robin Williams. 1951 – 2014. We are deeply saddened by the passing of Robin Williams. He inspired us through his passion, his generosity, and the gift of laughter. He will be greatly missed.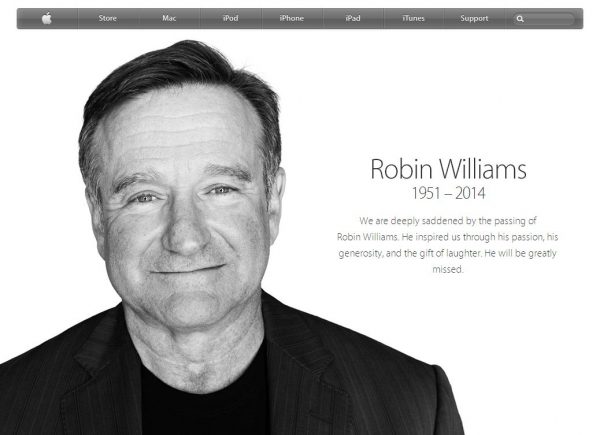 Auch im iTunes Store hat Apple eine Sonderseite geschaltet, mit der uns Apple die größten Erfolge von Robin Williams noch einmal vor Auge führt
Er war einer der beliebtesten Schauspieler und wird in der Geschichte des Showbusiness unvergessen bleiben, denn Robin Williams brachte Millionen Menschen zum Lachen und zum Nachdenken. Im Laufe seiner großen Kerriere wandelte er sich vom Stand-up-Comedian zum internationalen Filmstar und gehörte zu den Großmeistern der Improvisation. Mit seinem außergewöhnlichen komödiantischen Talent zog er das Publikum in seinem Bann, konnte aber dank seiner vielseitigen schauspielerischen Begabung genauso gut eine hohe dramatische Intensität heraufbeschwören. Viele seiner legendären Rollen waren schwindelerregende Drahtseilakte, die den Zuschauer von einer Minute auf die andere Lachtränen oder Tränen der Rührung in die Augen treiben konnten. Der Oscar-, Emmy- und Grammy-Preisträger Williams war ein ausgesprochener Menschenfreund und treibende Kraft der Wohltätigkeitsorganisation Comic Relief USA, die mehr als 50 Millionen Spenden gesammelt hat.
Wir sagen: Ruhe in Frieden Robin und gute Reise.